When the Legislature is in session, the Georgia State Capitol is a beehive of activity. On February 4, 2016, 18 hardy GFFT advocates made an impact under the Gold Dome. A few intrepid souls – Diane Earnest and her daughter Melissa, Tom Brown, Rodney Arnold, John Bethea, Jim Boyt, Lane Chambers, Bill Fogarty, and Arnie Geiger – arrived before 7:00 AM to prepare Room 216 for our 2nd Annual FairTax® Advocacy Day. Eye-catching banners in the hallway outside made us easy to find, and the promised coffee and conversation helped engage 33 legislators plus many staffers in discussions about The FairTax Bill of 2016. Some are already supporters of a FairTax for Georgia, and all were keenly interested in our proposal. Some of the legislators, eager for more information, requested follow up meetings for further education.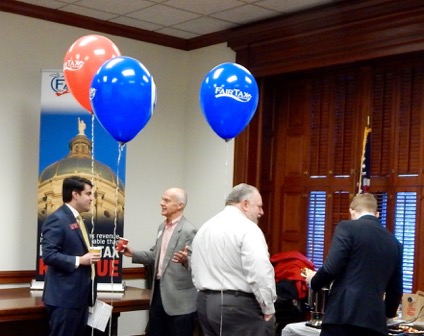 We distributed our entire supply of 250 pocket cards that briefly described the bill and provided links to our website where participants can learn more. We conducted live video interviews with legislators, distributed informational materials, and displayed a continuous slide show on our proposed legislation. You can view the slide show yourself by clicking Advocacy Day 2016 Rotating Slides. (You will have to download the file to view the slides.)
While some attendees viewed the slide show, our volunteers made sure that every state Representative and Senator who had questions about our bill or about the FairTax received knowledgeable answers. Phil Hinson, Arnie Geiger, Tom Brown, Bill Fogarty, and Jim Duffie were all on hand to provide expertise. Several advocates took the initiative of standing outside the doors, encouraging people to visit. Whether in Room 216 or in the Rotunda, the conversations were lively.
GFFT thanks the many FairTax advocates who chipped in financially to fund the continental breakfast our legislators and their aides enjoyed. Your donations covered the cost of the event, providing coffee, fruit, and pastries that greatly enhanced the conversation. Diane Earnest, Event Coordinator, prepared tent cards with their donors' names listed inside for the legislators whose constituents helped fund the food. Don't be surprised to get a "thank you" note from your legislator.
State Representatives who visited included the following: Beth Beskin, Shaw Blackmon, Wes Cantrell, Doreen Carter, David Clark, John Deffenbaugh, Emory Dunahoo, Jr., Chuck Efstration, Brett Harrell, Wayne Howard, Jeff Jones, Tom Kirby, Eddie Lumsden, Dewey McClain, Betty Price, Brad Raffensperger, Ed Rynders, Ed Setzler, Dexter Sharper, Steve Tarvin, Able Mabel Thomas, Robert Trammel, and Bruce Williamson.
State Senators who joined us included the following: Bill Cowsert, Mike Crane, Steve Gooch, Bill Heath, William Ligon, P.K. Martin, Jesse Stone, and Bruce Thompson.
We extend a hearty thank-you to our enthusiastic advocates: Rodney Arnold, John Bethea, Jim Boyt, Tom Brown, Lane Chambers, Pat Durham, Melissa Earnest, Diane Earnest, Bill Fogarty, Arnie Geiger, Dudney Harris, Phil Hinson, Joe Nicholson, Chuck Norton, Carrol Simpson, Marian and Mike Warlick, Wood Wiles.
This event and other activities that are occurring around the state and in your district are having a major impact on the thinking of the members of our General Assembly. We are already looking forward to our 3rd Annual Georgia FairTax Advocacy Day in 2017 and the passage of our bill during the 2017 Session of the General Assembly.
The leadership and thousands of Georgia FairTax advocates thank you for the strong support that has gotten us this far. THE GOAL is just in front of us.
---