We Go to Events to Spread the FairTax® Word, Of Course!
By Marian Warlick.
And we had plenty of events to keep us busy in May, with more on the horizon in the coming months. Putting FairTax on the map—that's how we roll.
The fun began on May 15 -16 at the Georgia Republican State Convention, with Athens FairTax Club President Greg Bleakley in charge.
Republicans from Bainbridge to Dillard, from St. Mary's to Oglethorpe, from Valdosta to Young Harris, from Columbus to Savannah, and from all points in between gathered in the Classic Center in Athens to elect state party leaders. With the earliest 2016 presidential primary just short of nine months away, the convention was also an opportunity for both declared and presumed candidates to make an appearance. Georgia is one of several key Southern states that will hold its primary on March 1, along with Tennessee and Texas. If Alabama and Arkansas join in, we could be part of the "SEC Primary." After all, isn't college football almost like a religion in Georgia and across the South?
Candidates and probable candidates at the convention included speakers Chris Christie at a breakfast gathering on Friday, Marco Rubio on Friday afternoon, and Ted Cruz on Friday evening. As the late-night TV commercials say, "But wait. There's More." Booths promoting Rick Santorum, Dr. Ben Carson, Scott Walker, Mike Huckabee, Rand Paul, Jeb Bush, and Carly Fiorina lined the hallway outside the convention hall.
That heavily traveled hallway was also the site where you could find Georgians for Fair Taxation's double booth, staffed by dedicated volunteers who talked with hundreds of attendees; pasted FairTax stickers on shirts, jackets and tote bags; gathered signatures on our "We Support the FairTax" petitions; accepted donations for bumper stickers, coffee mugs, and both FairTax books; and handed out almost 168 bottles of water, after removing the original labels and replacing them with a GFFT label. The trick is to get the GFFT label straight, with no wrinkles, easier said than done.
Many conventioneers who stopped briefly at the booth had comments like "We're all for it…Thanks for being here…Keep up the good work." Very few had never heard of the FairTax, and many told us they had already signed the petition and get our newsletters. Some posed thoughtful questions and listened intently to our responses. Many who had not already signed the petition readily agreed to sign up, and we have added 41 names to our growing database of Georgia FairTax supporters.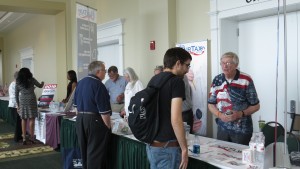 Unlike other events where I've worked a FairTax booth, most of the convention attendees knew who their U.S. Congressman is, and many also knew the names of their state Representative and Senator. However, quite a few did not know whether their Congressman is a co-signer of H.R.25, the FairTax bill, and many were surprised to learn that David Perdue, Georgia's junior Senator, had co-signed S.155 on the day it was introduced in the new Congress, immediately followed by Johnny Isakson, our Senior Senator. In fact, Senator Perdue was eager to be the lead sponsor of the FairTax bill in the Senate, but FairTax leaders decided that Kansas Senator Jerry Moran, a long-time FairTax advocate, should be the lead sponsor, with Perdue as an enthusiastic second. We're delighted that Perdue is already living up to the pledge he signed during the primaries, promising to be not just a co-signer of the FairTax but an active advocate.
Clearly, we needed to do something about the information gap, and we returned on Saturday morning armed with a chart, which we displayed on easels at the front of both tables.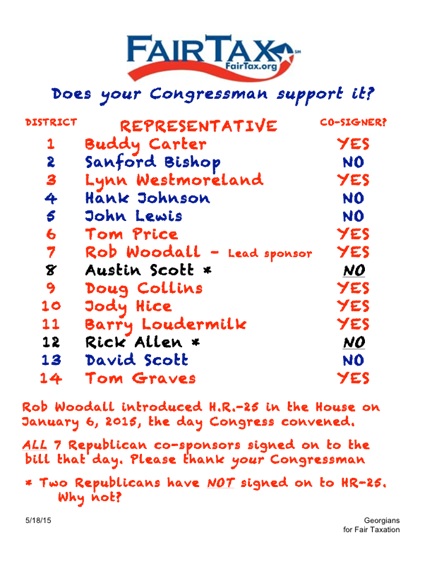 The sign was a real attention-grabber, and we took the opportunity to encourage people whose Congressmen are already co-sponsors to thank them. For Austin Scott and Rick Allen, the only two Republican Congressmen who have not co-signed HR-25, the conversations were different. One of the 8th District attendees said, "What do you mean, Austin Scott's not a co-signer? I hunt with him all the time. I'll be talking to him about this." We had a similar comment from a woman who lives in the 12th District, promising to set her personal friend Rick Allen straight. Especially for readers in those districts, as well as those who live in Districts 2, 4, 5, and 13, please go to www.POPVOX.com and vote for both bills, HR-25 and S-155.  Then take a few minutes to write a brief note telling your Congressman why you want him to co-sponsor the FairTax.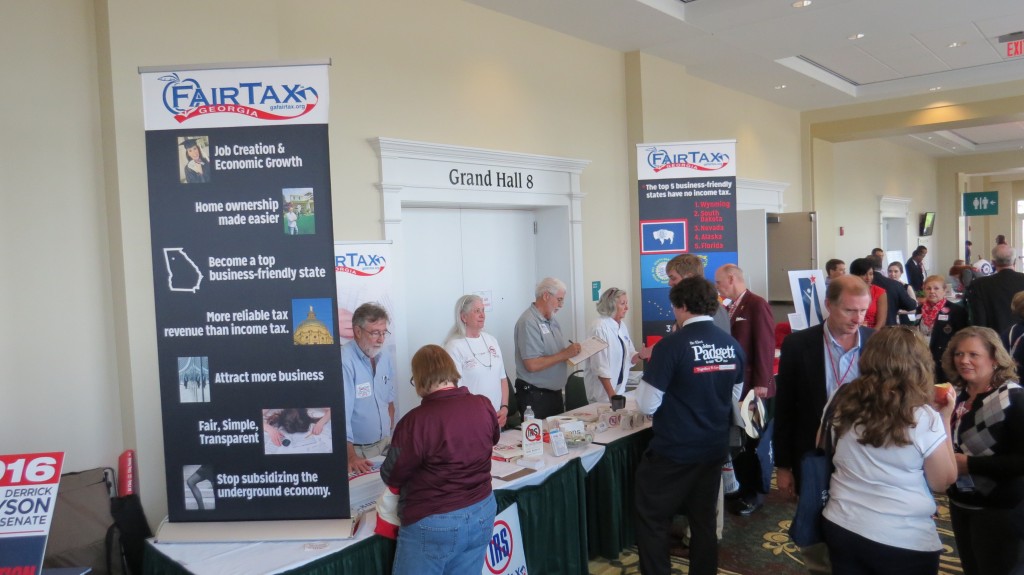 GFFT Team Comments:
Jim Duffie, GFFT Board member and Past State Director, who was also a convention delegate, had the following comment:
A disappointing occurrence at the GOP convention in Athens was the 'non-reading' of a resolution urging the Legislature to pass a FairTax Model tax reform bill. The resolution was submitted by Jim Duffie, [then] State Director, well before the deadline to be considered by the Resolution Committee, and he was told that the committee would be in touch to discuss any issues with the resolution. Duffie heard nothing prior to the convention, but upon proof-reading the submission, a typo was noted, so at the convention he spoke to the chairman of the committee to ask if it could be changed. The chairman said that he had caught the error and that all was OK. Unfortunately, when the resolutions were read on the floor, ours was not among them. Bill Fogarty, Chairman of our Board of Directors, then attempted to submit a corrected version from the floor, but was not allowed to do so by the convention chair. When the resolutions committee was asked why it was not submitted to the convention, the excuse was that it had an error in it! Do you think that GOP leadership did not want the 'sense of the people' to be considered for our cause? It sure seems that way!
Excerpts from "after-action" emails to Greg Bleakley and the GFFT leadership from Bill Fogarty, Chairman of the Board of Directors and State FairTax Campaign Manager, with more insight into why our resolution was not introduced:
Congratulations to Greg and his team who managed the very active booth during this convention. Every time I passed by the booth, volunteers were actively engaged with attendees. The stand up posters looked great and added a lot to our visibility. Also thanks to the Warlicks who came up with the idea of the "report card" on sponsors and non-sponsors.
I have two suggestions for the future. We need to find out who serves on the Resolutions Committee. This is a committee of about 12 people currently chaired by a member named Mike Welch, who some of you may know. I had never met him before the convention. The Committee reviewed resolutions that were submitted to them and selected from that list those that would be brought before the entire assembly for a vote. Ours wasn't. When the FairTax was mentioned in various speeches it got louder applause than all the other political issues. We missed a major opportunity for exposure and I think if our resolution had been brought to the floor, it would have been accepted by the majority.
Thanks to these eight other energetic, enthusiastic volunteers for their work at the Convention:
Hunaid Qadir, Tom Brown, Richard Botting, Sally?, Mike and Marian Warlick, Lyn Williams, Sylvia Novak, Mike Mauldin, and Beth Greenwell.