Your help is needed to make change happen.
Help us Spread the Word about the FairTax®!
Contact us and schedule a speaker!
Georgians for Fair Taxation has experienced speakers who can come to your organization or group and discuss the FairTax. The more people learn about the FairTax, the more they realize that the FairTax is the answer to our anemic economic growth, inadequate employment situation, and complicated and burdensome tax code. Fill out the form below to schedule a speaker to meet with your group.
Have the FairTax setup a Booth at your Local Events and Sign up to Volunteer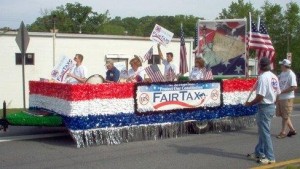 Georgians for Fair Taxation is always looking for opportunities to get our message out. At various local events we set up a booth to share information and pass out literature about the FairTax. You can find our booth at State and County Fairs, city parades, 4th of July celebrations, Chamber of Commerce meetings, Downtown business events, and other occasions that allow us the opportunity to share our message. We also are always on the lookout for local volunteers to help out at these events.
You can also contact our events coordinator, Diane Earnest, if you have an event you would like us to attend. Send her a message on the Contact Us page.