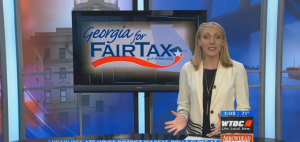 Our own Mike Warlick, Georgians for Fair Taxation Board Member, would not pass up the opportunity to tell a WTOC Savannah about the State FairTax bill currently in the Georgia State House. WTOC was so intrigued by the idea of a FairTax bill they made a news segment featuring Mike and HB-1141.
We need your support to help make Georgia a FairTax state! If you see a news crew or know someone at a news station take the time to tell them about HB-1141. If you are on Facebook, Twitter, or any other social media outlet, post share this story. We are excited to have this opportunity and it will take every one of us to make it a reality.
Follow us on Facebook for the latest news about the Georgia FairTax Bill!