By Marian Warlick.
"I know I should write to my Congressman to tell him to support FairTax, but I just don't have time."
"I'm not sure who my Congressman is."
"My opinion doesn't count anyway."
Excuses, excuses, excuses. We all know that we should tell our elected representatives what we think about the important issues of the day, and when the GFFT leadership meets with them, they tell us that they do pay attention to letters from their constituents. Sadly, most of us just never seem to get around to it. POPVOX.com makes it both easy and quick. You can vote FOR the FairTax bills – H.R. 25 in the House and S. 155 in the Senate – and while you're at the web site, you can write a letter to your Congressman and Senators. Using your ZIP code, POPVOX knows who they are and will send your comments to your Congressman.
Here's how it works:
1.  Go to the web site, www.POPVOX.com.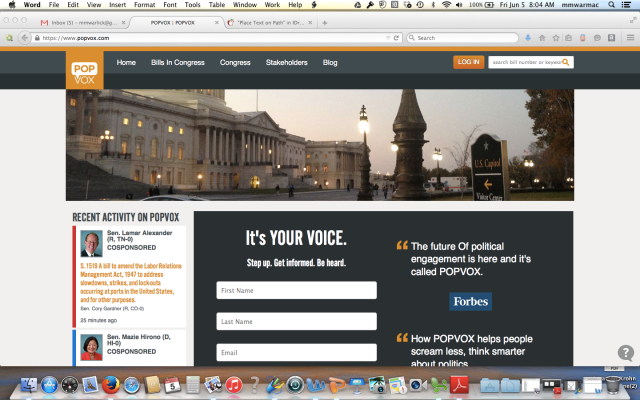 2. Sign up. Enter your first name, last name, email address, and ZIP code. Use ZIP+4 for accurate determination of your Congressional district. Create a password, and you're ready to vote.
3.  In the top right corner, type in "Fair Tax" or H.R. 25, and POPVOX presents a list of bills.
Click on H.R. 25 The Fair Tax Act, and you're here: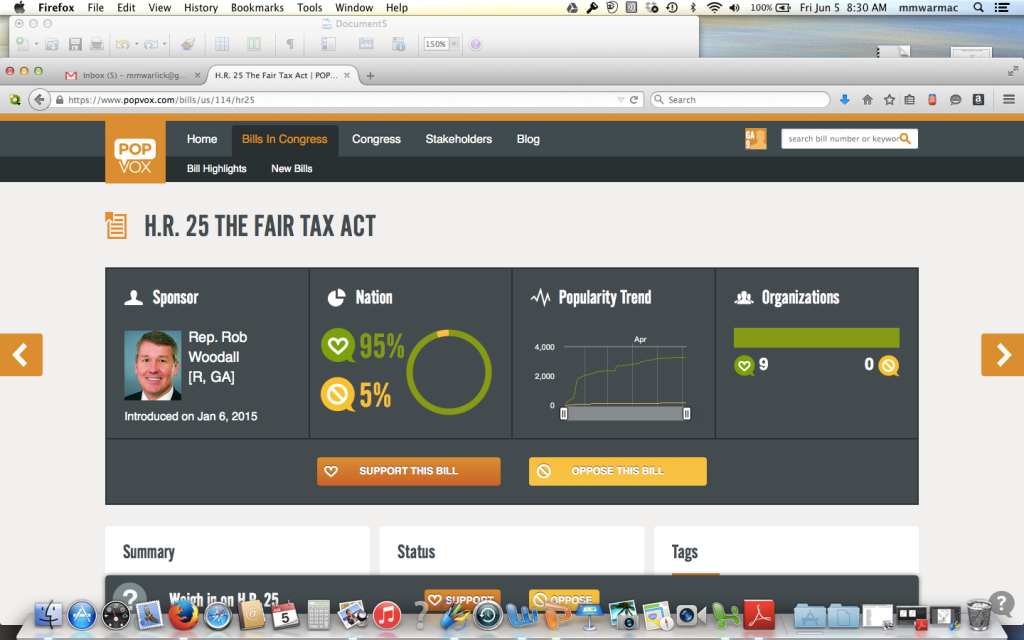 4. Click on Support This Bill and follow the easy steps to make your voice heard. After voting, POPVOX offers the opportunity to write a letter to your Congressman and Senators. Once written, POPVOX sends it to their Washington offices on your behalf.
Don't know your representative's position on the FairTax?  Both of Georgia's Senators are co-sponsors of S.155, but we don't yet have all of our Representatives on board H.R.25.  Here's the list: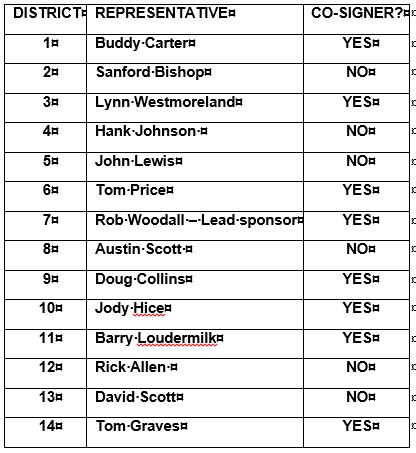 If your Congressman is one of the six who have not yet co-sponsored the bill, please be sure to include a statement with your POPVOX ballot asking him to support the bill and telling him why you believe our country needs the FairTax. Your opinion does count.
As of Friday, June 5th, 456 Floridians had voted FOR the FairTax at POPVOX, with 15 opposed. Florida has 9,102,000 registered voters. Georgia has 4,767,000 registered voters, and 338 have voted for the FairTax, with only three opposed. On a percentage basis, we're already ahead of Florida. Help us pull ahead of Florida based not only on the percentage of votes but also on the total number. There are tens of thousands of us in Georgia who support the FairTax. Our numbers should reflect that!
Finally, Georgians for Fair Taxation is one of nine organizations that has voiced its official support for the bill:
HR25 and S155, The FairTax, is neither Republican legislation nor Democrat legislation; it is not Liberal or Conservative. The FairTax is a bill BY AMERICAN CITIZENS FOR AMERICAN CITIZENS to clean up the 100 year+ tax collection mess American politicians have made and lead to the end of the IRS!