Remember the classic Willie Nelson song? Georgia FairTax advocates were glad to be "on the road again" in October and November, traveling to Moultrie for the Sunbelt Agricultural Expo, to Lawrenceville for a GOP Chili Cook-Off, and will be on our way Bostwick for our debut at the Cotton Gin Festival (delayed a week due to record-breaking rainfall) on November 14th. Meeting folks and talking with them about the FairTax – both the national bill and our campaign to introduce a state bill in the Georgia General Assembly in January – is our kind of fun.
The Sunbelt Ag Expo is our biggest event of the year, whether we're talking about the number of people who attend this three-day annual gathering or the size of the farm equipment displayed on the 650-acre site. Five intrepid volunteers (Chief Operating Officer Tom Brown, Mike and Marian Warlick, Chip Spradley, and Jack Shulin) drove a total of about 2,100 miles round trip from North Georgia. The team worked more than 135 hours during the three days of the Expo, talked to hundreds of people, signed up 100 new GFFT supporters, distributed hundreds more Fact Cards, and attached 700 bright red or blue balloons to the wrists of kids from toddlers to teenagers. The balloons provided FairTax advertising all over the Expo and brought families to our booth, where parents learned about the FairTax while we secured the balloons to their kids. When we had a few minutes to walk outside the Family Life Center, we saw our balloons bobbing along everywhere. We also recruited several folks who accepted the offer of a free tee shirt by agreeing to wear it immediately.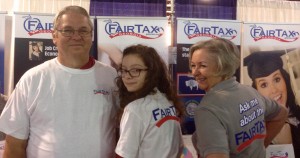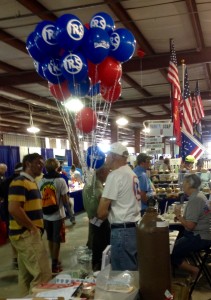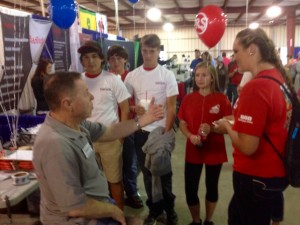 We were very pleased when another exhibitor, who saw Georgians for Fair Taxation listed in the Expo program, stopped at our booth late Tuesday afternoon, chatted a few minutes, and added $60 to our donation jar. Thank you!
We have a challenge for the nearly 400 GFFT members who live in Moultrie, Tifton, Albany, Cordele, Valdosta, Sylvester, and the smaller towns around them: save the date now to join the North Georgia contingent in 2016. (Expo dates are October 18-20.) The Expo draws enough visitors that we could have used at least two or even three more people. Volunteer for the entire event, or for a day, a morning or afternoon shift, or any combination that works for you. You don't have to be a FairTax expert, but you must like balloons. After all, why should the north Georgia folks have all the fun? We'll begin recruiting enthusiastic advocates in September for Sunbelt Ag Expo 2016.
---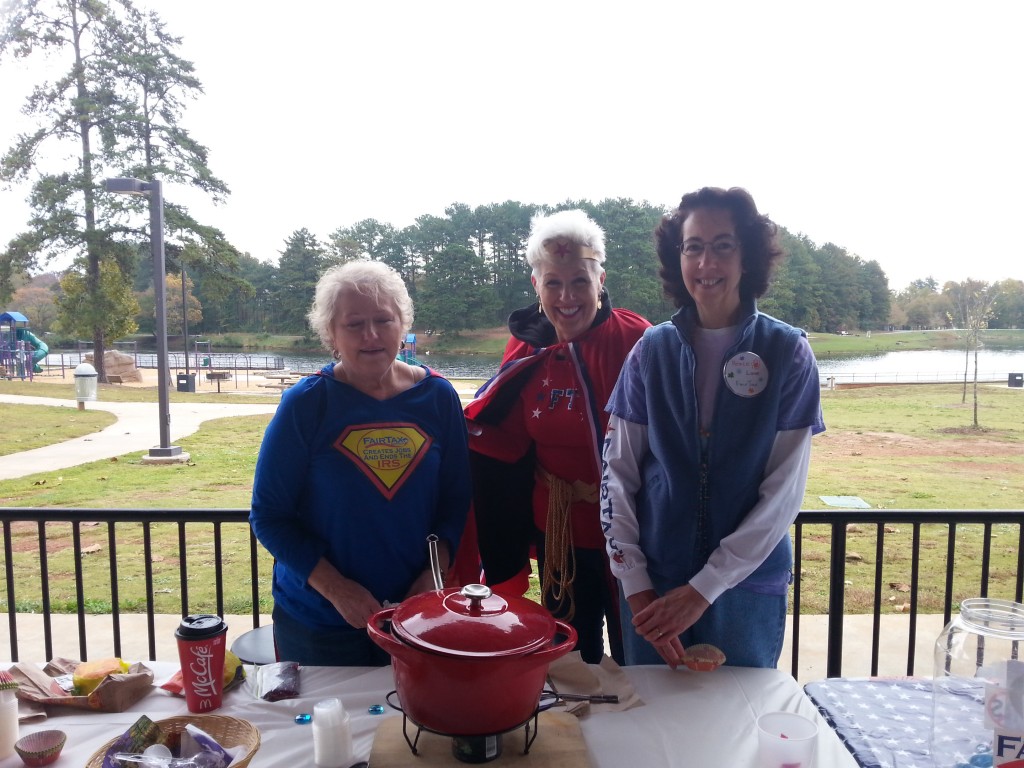 Halloween was the perfect day (except for the weather) for the Gwinnett GOP Chili Cook Off, as costumed volunteers served up chili and FairTax information. With the beautiful Rhodes Jordan Park Lake in the background, Georgians for FairTaxation participated in the third annual Gwinnett GOP Chili Cook-Off. It was cold. It was windy. It was Halloween. But the FairTax Super Heroes were undaunted. Lisa Chambers, Karen Joines, Melissa Earnest, and Diane Earnest braved the weather to serve up chili and FairTax facts.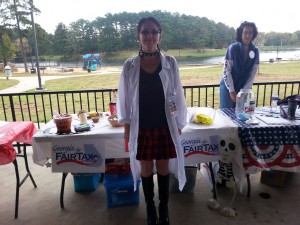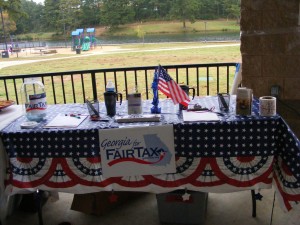 Competing with the Georgia – Florida football game and Halloween, the Cook-Off had a bit smaller crowd this year than last year. In spite of that, we were able to add some names to our supporter database. We didn't win awards for our chili or our decorations, but we're sure next year will be our year! All you chili aficionados out there, mark your calendar for next year to help us take the prize. The chili competition is friendly and the prize is bragging rights. No pressure. Just fun!