GOP Presidential hopefuls swung through Georgia in early August to win voters favor in a political slugfest of epic proportions. The so-called "SEC Primary" election on March 1, 2016 will see voting in Georgia, Alabama, Arkansas, Oklahoma, Tennessee, Texas and Virginia. That's a bunch of states with a lot of Republican voters.
Georgians for Fair Taxation encountered a number of the candidates as they blitzed their way through the Peach State. We were able to speak with some and ask them about the FairTax®. We didn't pick favorites, but we were limited in not seeing all the candidates because of resource and logistical constraints.
For those we did meet, the responses ranged from full-fledged support to general promises of tax reform. We look forward to getting together with all candidates as the campaign marches on.
Of those we saw, Mike Huckabee is the most unabashed supporter of the FairTax. He was the featured speaker at the GOP 8th District BBQ held at the Georgia National Fairgrounds in Perry. Huckabee confirmed his very unqualified advocacy for the FairTax. Judging by the loud applause every time he mentioned it, the audience evidently agreed. FairTaxers had a booth at the event and Huckabee made a point to stop by.
GFFT caught up with Ted Cruz as his bus tour rolled into Newnan. His event was well attended by a substantial group who obviously liked what he had to say. After his remarks, GFFT Chairman, Bill Fogarty, asked him about the FairTax. Cruz said he likes the FairTax as a goal, but feels that we must pass through the Flat Tax as a way station towards that goal.
This comment is one we hear frequently and sounds like electioneering to appeal to supporters of both tax plans. It makes us very uncomfortable. Who's to say that passage of the Flat Tax will pave the way to the FairTax? Politicians promise all kinds of goodies in the future if we'll only vote for them today. But somehow on the road to nirvana they get distracted. A "crisis" occurs that puts all plans on hold.
Remember, the Flat Tax is income tax in a different outfit. That's what we don't like.
Any income tax, flat or otherwise, goes against two fundamental principles of the FairTax. First, it taxes income, not consumption like the FairTax does. Taxing income means producing things successfully is penalized. Successful production of goods and services means more jobs and economic growth. Any income tax, including a flat income tax, will act as an economic drag, not the kind of fundamental change we so desperately need. Second, you have to report income before you'll pay any income tax. Supporting any form of income tax means those who do file returns subsidize those who don't. How do you like subsidizing drug dealers, prostitutes, and illegal aliens working "off the books?" You're doing it right now and will continue to do so under any income tax, including the Flat Tax. But all those people who don't report income still buy things. Under the FairTax, they will pay at least some taxes when they spend their loot.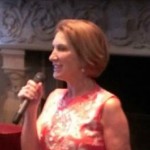 GFFT saw Carly Fiorina at a brief gathering in Atlanta where she spoke for a few minutes and answered questions. We asked her about the FairTax. She said she wants to reduce a tax return (presumably the Federal) to three pages. A swarm of followers prevented us from following up to hear more. However, based on her comment, she must not support The FairTax as it would cut down a tax return to NO pages. Under the FairTax, everyone will have already paid their taxes as they buy things throughout the year. It's an easy pay-as-you- go plan with a collection system that's already in place. You won't need to spend time worrying about where you'll wind up at the end of the year. To provide further opportunity for Fiorina to explain her position, we did follow up with her campaign to get more details on her tax plan, but have not gotten a response. When we get more details, it will be reported.
GFFT looks forward to more direct contact with candidates as we move towards 2016. We will make every effort to engage every candidate, regardless of party, and keep you informed.