Thanks to the tireless efforts of lead sponsor Emory Dunahoo, Jr. (District 30), HB543 (which will have a new number when the Legislature convenes in 2019), ended the 2017- 2018 session with 52 co-sponsors, or 29% of the 180 House districts. We'll need many more co-sponsors to persuade our next Governor to support the bill, especially since one Republican candidate opposes the FairTax and the other believes he has a better plan. The Democrat candidate does not support the bill.
Some of our co-sponsors aren't returning to the Georgia House for the 2019-2020 term. Geoff Duncan (District 26) stepped down to run for Lieutenant Governor; he faces a run-off against state Senator David Shaffer, also a FairTax advocate. Co-sponsors Brad Raffensperger (District 50) and Buzz Brockway (District 102) both left the house to run for Secretary of State, and Raffensperger faces a run-off against Alpharetta mayor David Belle Isle.
Another five co-sponsors did not seek re-election for various reasons: Bruce Broadrick, David Casas, Joyce Chandler, Brooks Coleman, and Tom Taylor. Most of the remaining co-sponsors won their primary races or faced no Republican opposition. However, Paulette Rakestraw faces a runoff July 24, and some co-sponsors have a Democrat opponent in the November 6, 2018 election. The following cosponsors, listed in District number order, all need your votes: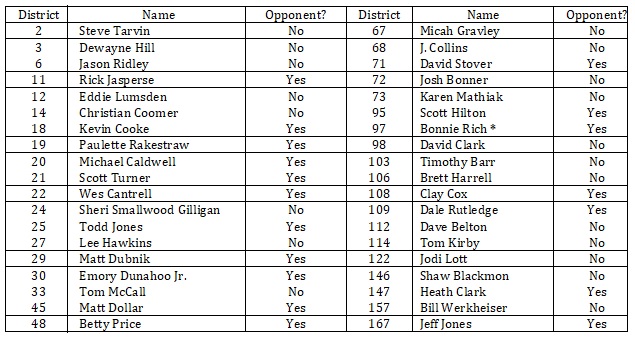 * Bonnie Rich, one of six candidates for a seat vacated by retirement, faces a run-off; her web-site shows that she supports the Georgia FairTax.
We understand that support for a Georgia FairTax may not be your top criterion in deciding which candidate to vote for, but we believe it's a very important factor. If your Representative is not a co-sponsor now, be sure to let him/her know that you expect your representative to co-sponsor the bill when Representative Dunahoo introduces it in 2019. All it takes from you is a quick phone call or email to your representative's office. If we all work together, we can make April 15th just another beautiful Spring day, at least in Georgia.