Originally posted on February 1, 2013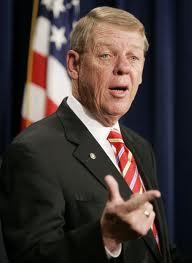 Shortly after its introduction by Senator Saxby Chambliss, Senator Johnny Isakson (R-GA) added his name to the list of sponsors for S.122, the FairTax. Isakson has been a co-sponsor of the FairTax in recent years and his continued inclusion on the list of current co-sponsors is very much appreciated. We applaud his support.
Tax policy has become a more prominent issue as Congress has wrestled with various challenges to boost the still sluggish US economy. There is clearly growing momentum for changes to a tax code that is so complex that virtually no one understands it completely. Even experts often disagree on what it says. The IRS itself acknowledges that the code's complexity has made it ever more difficult for filers to decipher and virtually impossible for it to enforce.
Compliance costs are greater than ever creating further drag on US competitiveness.
FairTax supporters in Georgia should contact Senator Isakson and congratulate him on his continued endorsement.