Georgians for Fair Taxation spent the first weekend of December promoting the FairTax at the National Arms Gun Show in Atlanta. Although we have participated in a number of fairs and shows throughout the state, this was our first effort at a gun show. We were very well received by the gun show visitors.
Our sole focus for this event was to encourage visitors to the booth to join the FairTax cause by becoming members in Americans for Fair Taxation (AFFT). It is critical to build the paid membership in AFFT, so that we can have real clout when speaking with members of Congress. Legislators pay attention to organizations with millions of paying members.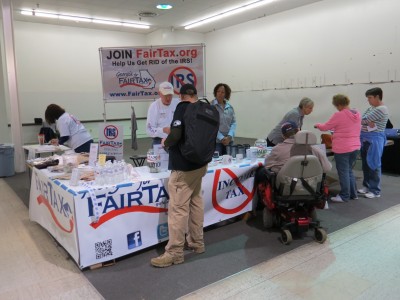 Since we weren't selling guns or knives, our assigned booth was positioned along the periphery of the event. However, we had a large FairTax sign that drew visitors in from the main traffic areas. The gun show visitors expressed a lot of interest in the FairTax.
We collected memberships to AFFT and some direct donations to GFFT. Several visitors to the booth were supportive of our cause but did not want to have their names on ANY lists. They donated, but did not sign up.
In all, the gun show event was a success. The funds collected well exceeded our costs of attending. Plus, we gained new members in AFFT. We will be looking to promote the FairTax at other gun shows next year.
We want to thank the following supporters for coming out, setting up, and staffing our booth during the weekend: Al Abrash, Greg Bleakley, Tom Brown, Glenn Cowart, Wanda Cowart, Pat Durham, Diane Earnest, Jay Franks, Gene Key, Linda Menk, Jack Shulin, Chip Spradley, Lisa Thurston, and Lyn Williams. Without your dedication and help, our success would not have been possible!