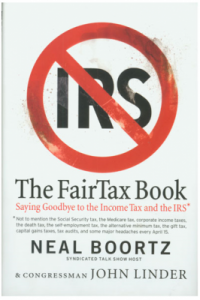 In a Reuters article on May 2nd, author Susan Cornwell highlighted the Republican Study Committee's position regarding the IRS. The committee called for the complete elimination of the IRS. Over two-thirds of the Republicans in the House of Representatives are members of the committee. The idea of abolishing the IRS is becoming more popular.
Of course, in order to abolish the IRS, the current tax system would have to be replaced. The article does not go into replacing the tax system, but it does mention that Rob Woodall, Georgia's Republican representative, has introduced legislation every year since he entered Congress in 2011 to eliminate income taxes and abolish the IRS. It also mentions that his bill has 73 co-sponsors, including the heads of the House tax and budget committees. But the article does not mention that bill is the FairTax® Bill! Let's hope that future articles will explore the ability of the FairTax Bill to improve our economy and abolish the IRS.
Click here to read the full article.